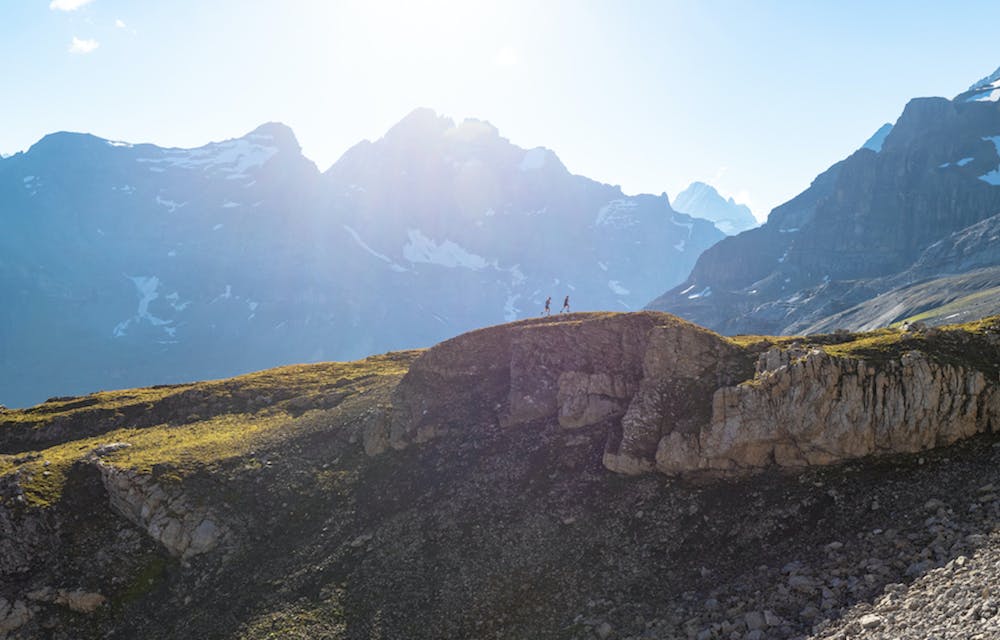 Station to Summit - Trail running with a cause
Erschienen am: 06.07.2022
Runners John and Oliver planned a number of trail runs with the goal to only use public transport and raise awareness for climate change. Check out what they experienced.
Autor:in: John Thornton & Oliver Futrell
Coming from the grassy green hills of the United Kingdom, we both feel pretty fortunate to be living in a region of Switzerland called the Bernese Oberland. Known for its iconic mountains such as the Eiger, the Bernese Oberland has an abundance of less vertical peaks and paths that are perfect for trail running.
The Incentive for our project
Being located in one of the biggest outdoor adventure playgrounds of the Alps brings many opportunities, but also awareness to certain issues. We're not radical climate campaigners, but it's hard not to ignore all the warning signs.
On the 13th June 2021 the proposed Swiss CO2 law looked at road vehicles, air traffic and industrial practices in an attempt to reduce carbon emissions in line with the Paris accord. Unfortunately this law was rejected by 51.6% of voters. Having moved to Switzerland for its stunning natural environment, this came as bit of a personal blow to us. It seemed like a step in the wrong direction for a country so renowned for its beautiful landscapes, snow capped mountains and of course, its glaciers.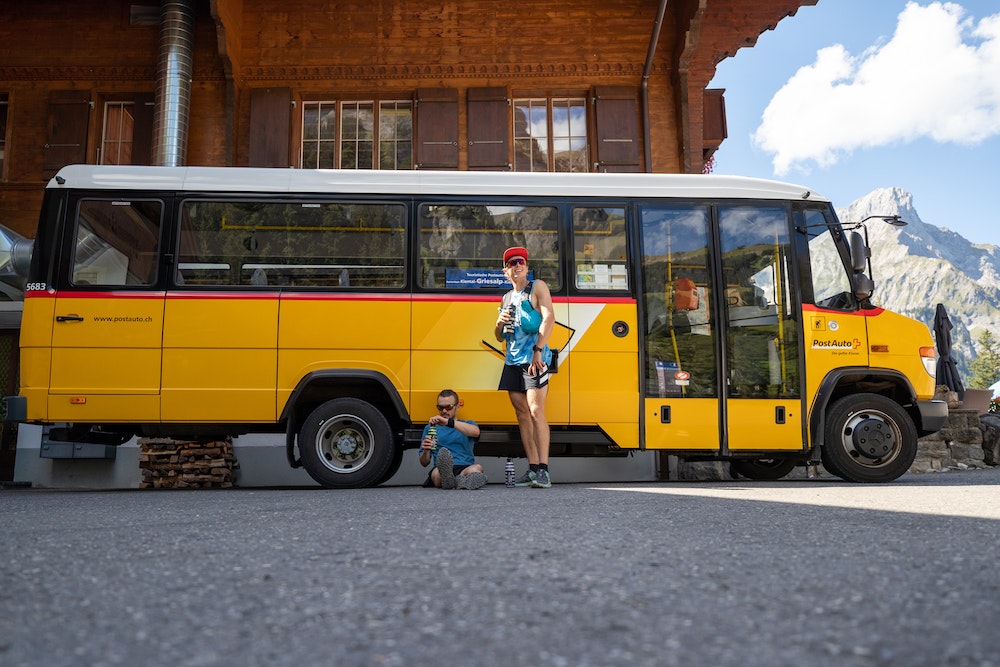 The Project
Trail running for us has always been one of the best ways to discover landscapes. You travel fast enough to not require an overnight bag, yet slow enough to appreciate all the rocks, steps and mountains along the way.
After the rejection of the Swiss CO2 law it motivated us to look at the changes we could implement. Therefore we created the Station to Summit project. The Station to Summit project is to help promote more sustainable methods of travel to the outdoor community. To do this we set ourselves the challenge of utilising public transport to complete of variety of trail runs.
Based in Interlaken, we planned our routes from Grimsel to Kiental. And of course, all would be accessible via public transport. 
Our Experiences & Challenges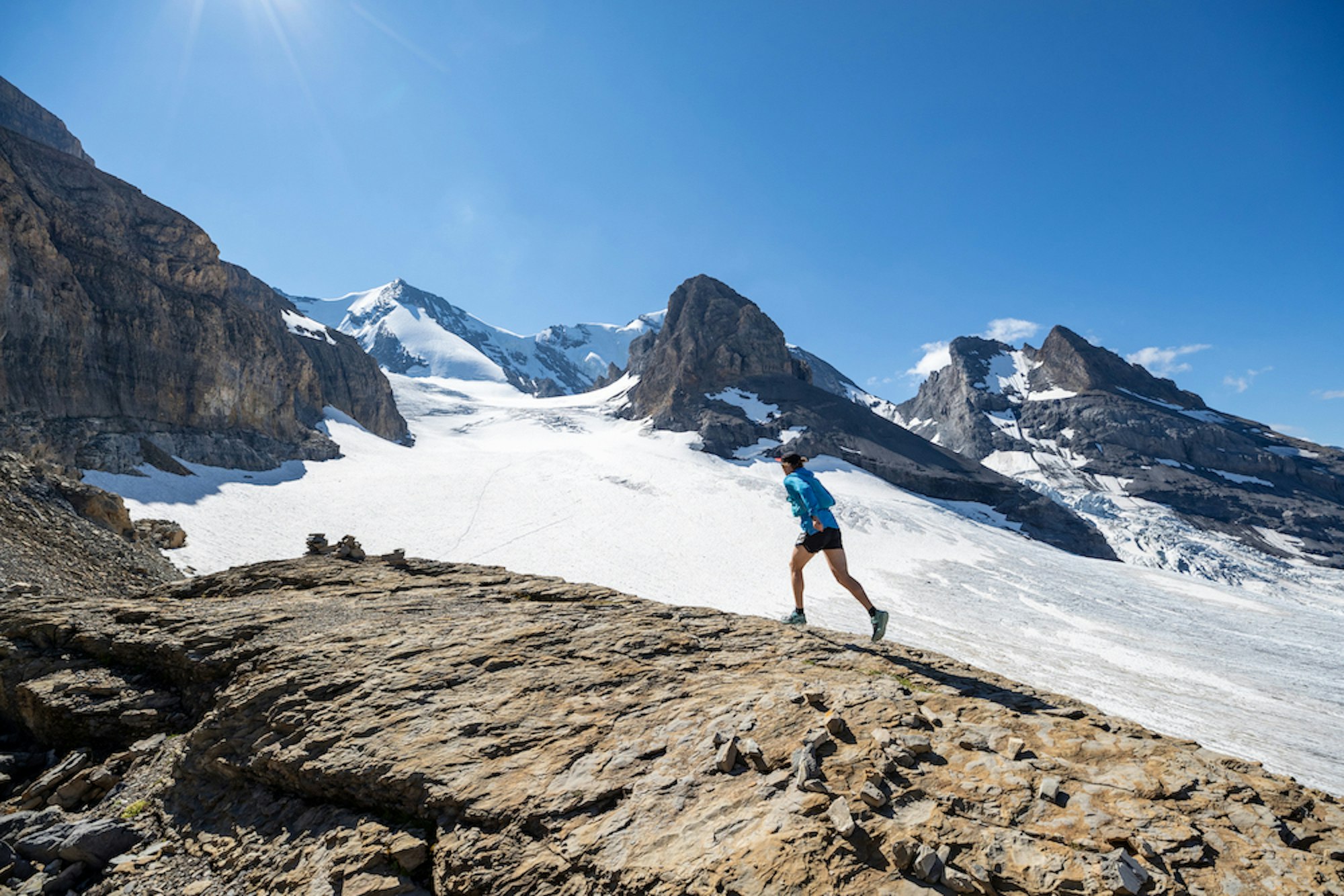 Objective 1 - Blüemlisalphütte
We began our project to the ideally situated Blüemlisalphütte. Taking the bus deep into Kiental to the little village of Griesalp we were dropped off directly at the beginning of our trail. Waving goodbye we began winding our way up towards breathtaking views of the Blüemlisalp massif and down into the Kandersteg valley below. 
---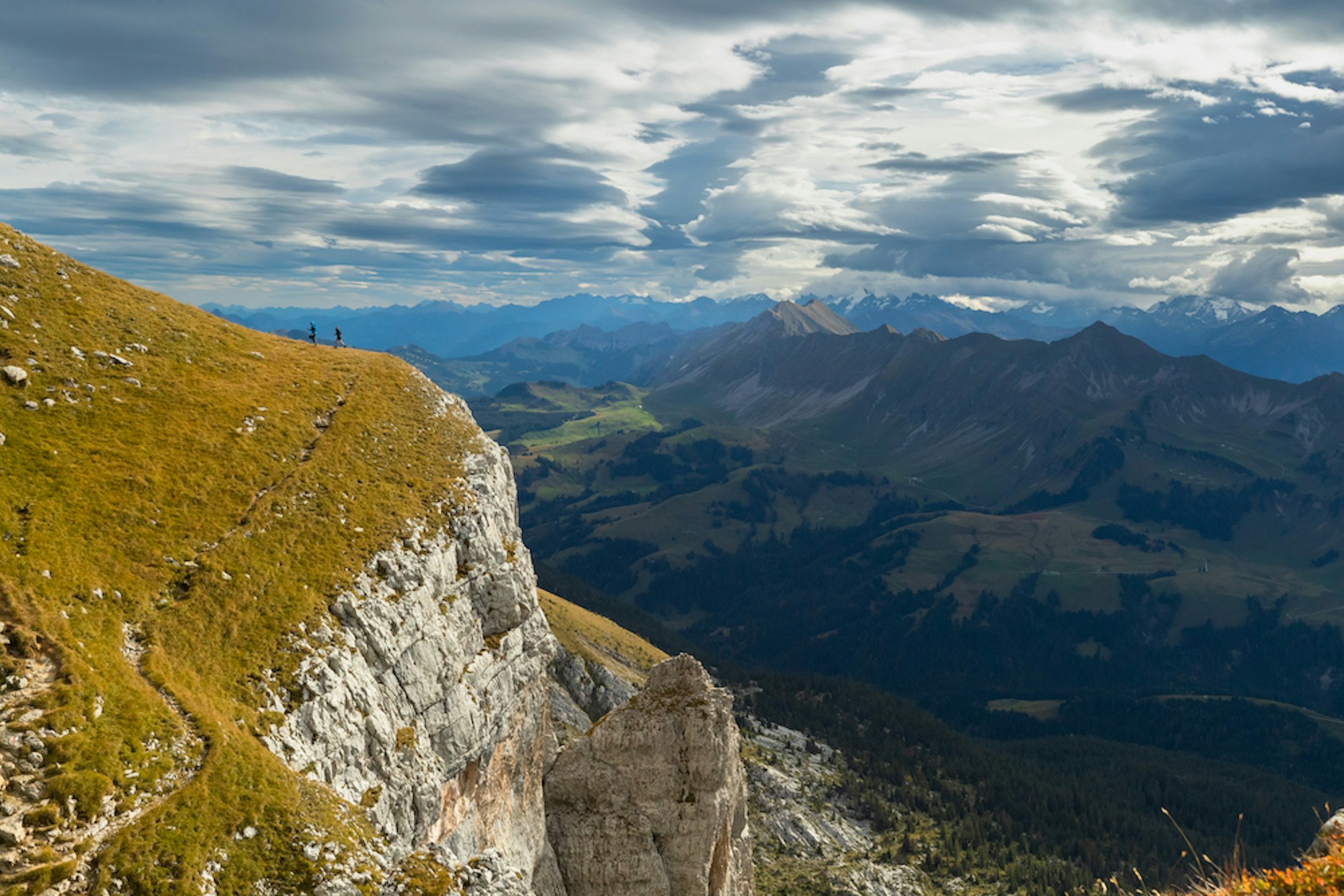 Objective 2 - Hohgant
A few days later we were exploring above Habkern and towards the summit of Hohgant. This summit is less demanding than others we had planned and gave us ideal opportunity to stretch our legs before tackling one of our longer runs. We were already realising how flexible you can be with the transport system in place as we didn't need to add huge approaches or extensions to our routes. 
---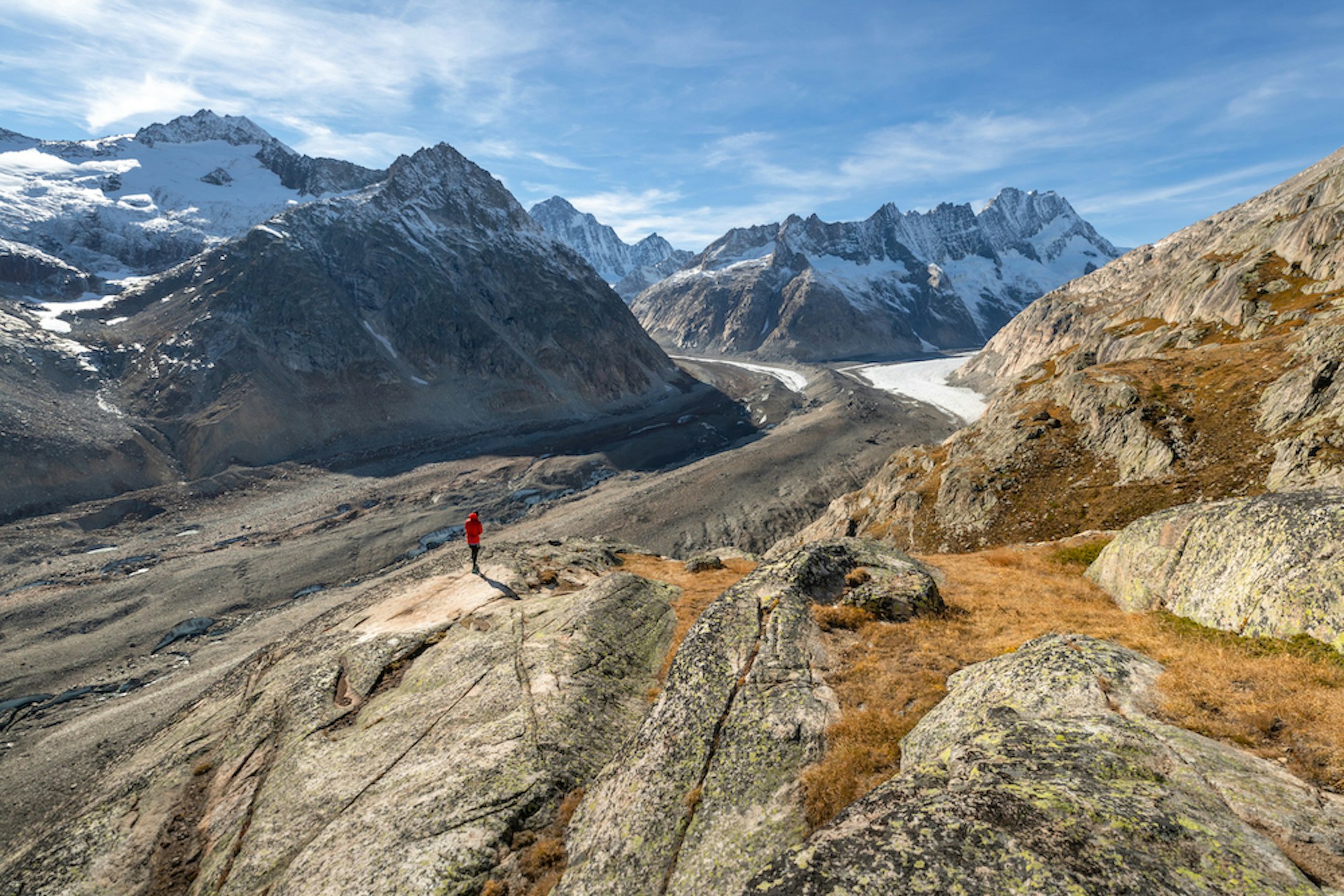 Objective 3 - Lauteraarhütte
Hopping on the train from Interlaken to Meiringen and then the bus from there, we were soon into Grimsel and on our way to the Lauteraarhütte. Meandering its way alongside Grimselsee the trail pulls you ever closer to the source of Switzerland's longest river, the Aare.
Reaching the Lauteraarhütte you are presented by spectacular views to some of the highest peaks of the Bernese Oberland. Whilst these peaks are impressive, looking down onto the glacier, a mere figure of its former self, is less so impressive. Knowing that this magnificent glacier once stood where we were standing is a stern reminder of what we are losing and why we created this project. 
---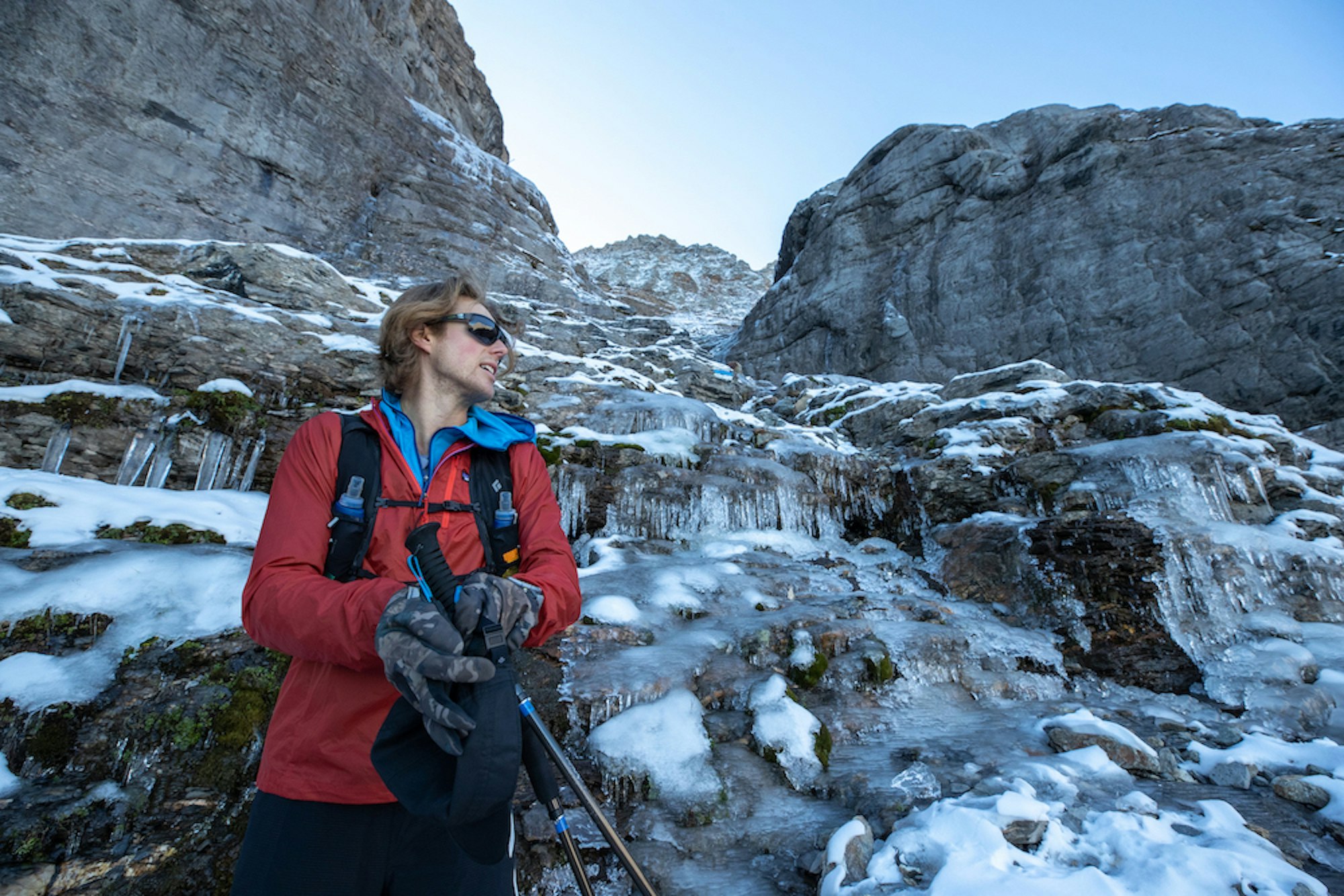 Objective 4 - Dossen
Starting this project late in the running season we were aware of the potential for periods of bad weather and ultimately the turn of the season in which snow begins to fall. Our first experience of this was a few weeks later in the Rosenlaui valley. We had planned a route towards the Dossen, a peak that stands above the Rosenlaui glacier and has spectacular views in all directions. Unfortunately we were forced to turn around when met by thick ice over steep ground. Respecting the severity of the terrain and without sufficient equipment, turning around was an easy decision for us to make. This was part of the game and our motivation was left intact as we looked forward towards our next objective. 
---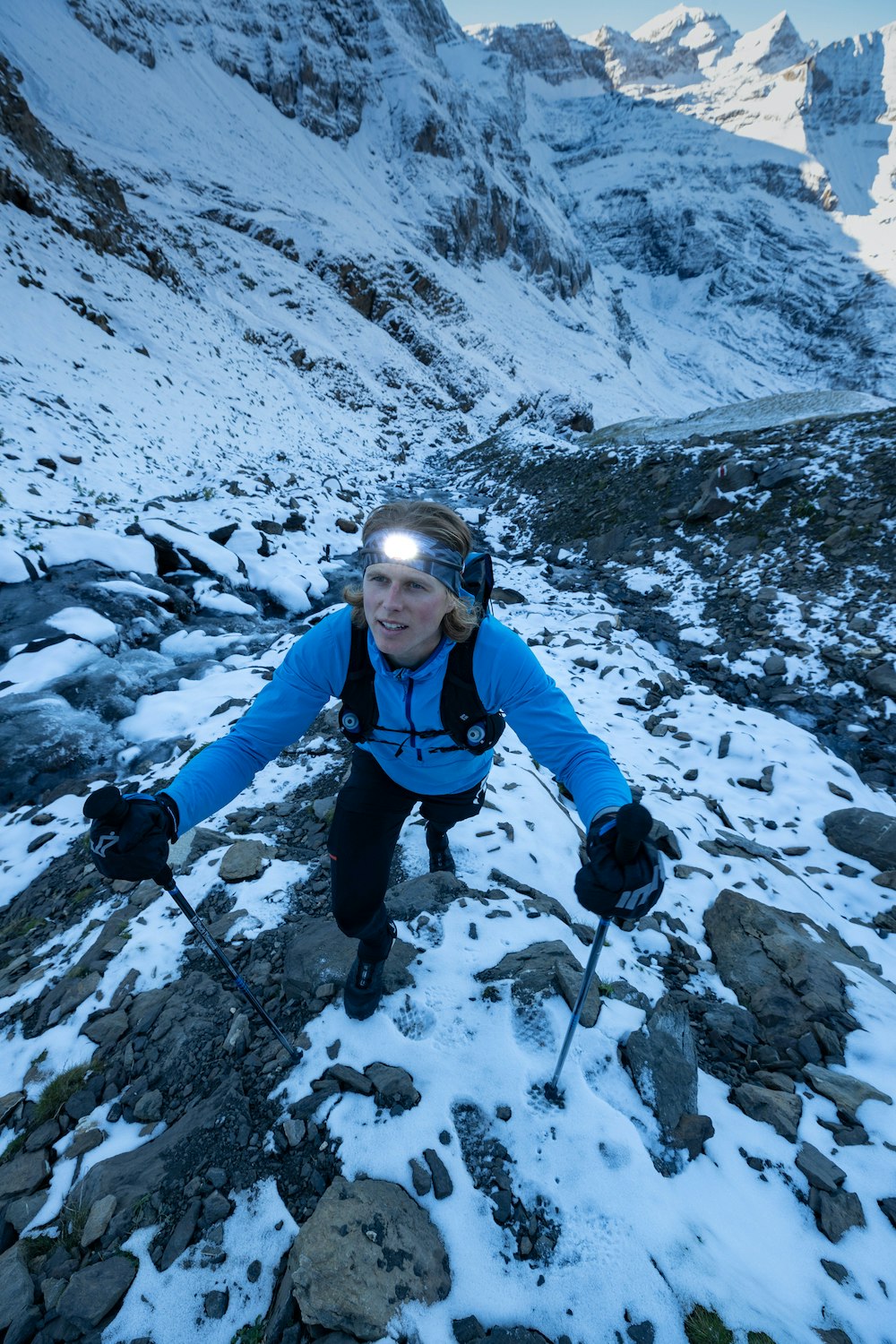 Objective 5 - Wildgärst
Starting from Axalp we immediately felt the change of season. The air was cold and the ground was as frozen as our hands were. In the distance we could see our objective and worryingly, the snow cover that lay upon it. Nevertheless we continued our way towards the summit of Wildgärst. The snow became deeper to the point where all hopes of keeping dry and warm were futile. The conditions were so bad, it kinda became fun! There's a certain joy to be had in the ridiculousness of ones situation. Once you find that point all you can do is laugh and keep putting one foot in front of the other.
Looking over into the snow covered town of Grindelwald we knew that the season was over. Feeling satisfied with what we had completed and the style in which we had done so, we knew that any remaining runs we wished to complete would wait until next year.
---
Reflections and realisations
Through many vertical kilometres and stunning landscapes we discovered that you really don't need to travel far to find what you are looking for. For us and indeed many, it is the sense of adventure that drives us to lace up our running shoes again and again.
Though we encountered many challenges along the way we didn't imagine how much we would enjoy the public transport aspect. Whether it be brief encounters with the seemingly endless supply of seasoned veterans and their hiking poles or the beautiful railways and roads - we were never left bored.
Despite the CO2 law not being passed we were happy that we reduced our own carbon emissions by utilising the public transport system in place. The Station to Summit project proved to ourselves, and hopefully now to others, that we can all contribute to helping against the changes happening to our climate. 
A massive thank you to Evil Eyewear, Peak Punk, Petzl and POW for supporting this project.