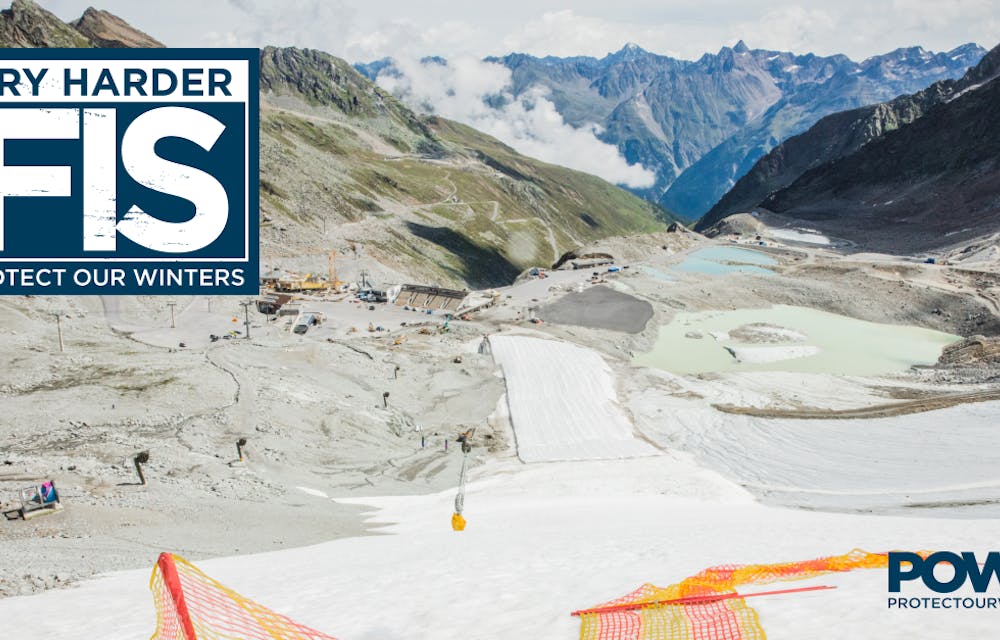 POW calls for more sustainability at FIS - what does it mean?
Erschienen am: 25.10.2023
With the newest pictures from Zermatt and Sölden depicting ski slopes being prepared for the upcoming FIS World Cup races, POW has raised concerns about the exploitation of glaciers. What should you be most worried about? And what do we demand?
Autor:in: Heidi Kalmari, Chairperson POW Finland
Last week, the international POW community caused a stir on social media by highlighting issues in several ski resorts in the Alps. Glaciers are being crushed with the power of excavators in order to get the slopes of the soon-to-be-started Alpine Skiing World Cup in shape. Most recently, diggers have destroyed, for example the Theodul glacier located in the area of the Zermatt ski resort in Switzerland. The milling of the glacier grew into an uproar in Central Europe. The uproar was exacerbated by the fact that the question arose as to whether the excavations also deviated from the routes permitted by law in order to increase the length of the race slopes.
We are losing our glaciers fast
It's good to open up in more detail what this is all about. Above all, the reason for making a fuss is that this kind of deliberate destruction of glaciers should by no means present today. The glaciers of the Alps are a dwindling natural resource, whose melting rate has been unprecedented in recent years. In the last two years alone, a record 10% of the total area of ​​Switzerland's glaciers has melted. 
Excavators have been used to modify glaciers for years, and while a single modification for a competition slope might seem relatively small, it's part of a larger-scale operation that consumes energy and disrupts the vulnerable alpine environment. Moreover, the symbolic value of such actions is significant, given the current climate crisis. And above all, it's about the symbolic value of the act - with the climate crisis at this stage, we should no longer need to destroy even the little we have left.
POW's primary demand is that the International Ski Federation (FIS) finally takes climate change seriously, implements sustainable practices in its operations, and shows clear climate leadership. At best, this would lead to a significant climate-positive change among alpine sports enthusiasts, followers, organizations and other members of the winter sports community. So far, however, FIS's own actions to curb climate change have been completely ineffective. This is incomprehensible, as the climate crisis significantly threatens the existence of all snow species.

Are snowmaking and preserved snow bad or good?
No ski slope, anywhere in the world, is built purely with natural snow. The situation is the same in snowboarding parks and on the racetracks for cross-country and biathlon. Slopes and pistes have been strengthened by snow guns for decades. 
The climatic and environmental problems of snowmaking are related to considerable energy and water consumption. Climate emissions caused by snow cannons have been tackled by developing more energy-efficient devices and favoring renewable energy sources. When it comes to water, finding more sustainable solutions is more difficult, because it is needed in large quantities to make snow. In the Alps, the water consumption of snowmaking is a huge problem. The Alps suffer badly from drought, and local water use has been regulated for years. In such situations, it's essential to consider whether this precious water should be used for snowmaking, given the importance of preserving local ecosystems and the natural water cycle.
The winter sports community must lead by example in responsibility
Preserved snow, while innovative, doesn't make alpine or cross-country ski competitions truly sustainable, especially when competitors travel extensively for events, contributing to significant carbon emissions when athletes need to fly around the world for one weekend. On top of this, there are numerous other climate and environmental challenges due to the modification of the terrain of the slopes and other consumption and ecological load caused by the competitors.
In terms of the sustainable future of both the alpine sports, snowboarding and the cross-country and biathlon World Cups, it is critically important that the international skiing federation FIS, as well as the entire winter sports community, finally take the climate crisis with the seriousness it requires. It's time to move from laggards to pioneers.
POW's demands towards FIS

FIS must create a goal-oriented responsibility strategy that includes a road map for reducing carbon dioxide emissions. FIS should commit to at least 50% emission reductions by 2030.

FIS must communicate openly and transparently about all its climate and environmental impacts.

The FIS competition calendar should be modified in such a way that travel is reduced as much as possible and the emissions from travel are minimized. The competition calendar should also respect the existing climate conditions.

FIS should use its own influence to promote climate action at the international government and state level.
Sign POW's petition, where we demand stronger climate action from the International Ski Federation (FIS). So far, the petition has been signed by 500 winter athletes and over 25,000 members of the winter sports community!
This blog was written by Heidi Kalmari, Chairperson of the board of POW Finland and member of the board of POW EU.
The text has been shortened and small adjustments have been made to highlight elements relevant for the Swiss context. 
Sources:
Hänggi, Nils: Sofortiger Stopp – Weltcup-Piste liegt ausserhalb des Skigebiets. 20 minuten. 19.10.2023
Jacobs, Angelika: Skiing over the Christmas holidays no longer guaranteed – even with snow guns. University of Basel. 28.12.2022. 
Kalmari, Heidi (2021): Lumen jäljillä. Docendo. 
Swiss Commission for Cryosphere observation (SCC): Two catastrophic years obliterate 10% of Swiss glacier volume. Swiss Academy of Sciences (SCNAT). Lehdistötiedote 28.9.2023. 
Vorkauf, Maria & Robert Steiger, Bruno Abegg ja Erika Hiltbrunner (2022): Snowmaking in a warmer climate: an in-depth analysis of future water demands for the ski resort Andermatt-Sedrun-Disentis (Switzerland) in the twenty-first century. International Journal of Biometeorology. 
Kuva, Christoph Jorda, 2018: Söldenin jäätikkö. Itävallan Söldenissä on tehty useita vuosia massiivisia valmisteluja jäätiköllä, jotta Alppihiihdon maailmancup voitaisiin järjestää loka-marraskuussa.